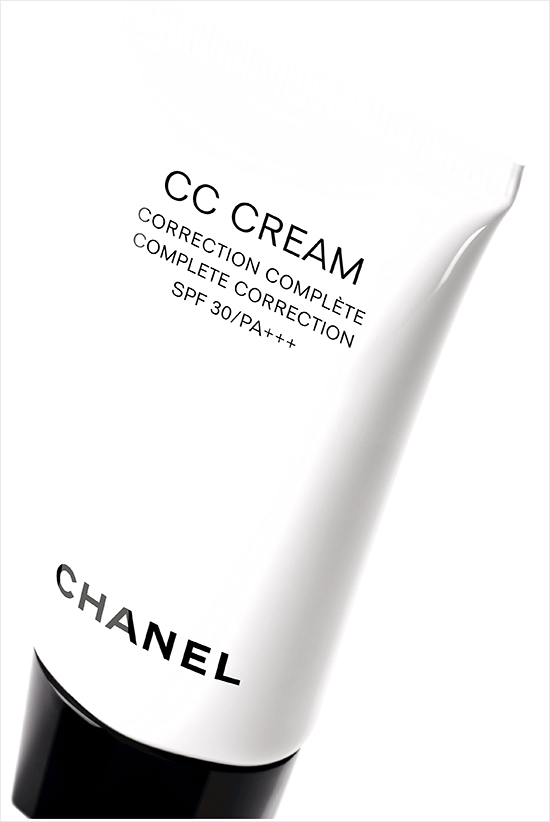 Chanel CC Cream Complete Correction SPF 30 / PA +++
Simply Elegant

Coco Chanel considered beauty as a way of life. For the sake of practicality, a product had to have many different qualities to preserve and maintain the beauty of skin complexion.

Today, CHANEL continues to apply this vision, with the formulation of a skincare product with multiple functions. The result of two creative sources, science and makeup, the CC CREAM illustrates the values of the House that are simplicity and elegance, comfort and attention to detail. New skincare category initiated by CHANEL, the CC CREAM is the perfect beauty product for the modern woman.

In a simple and fast easy to use, it provides a Complete (C) Correction (C) care for the complexion. After its success in Asia, the time has now come for women from all over the world to appreciate it. A specific shade has been developed to adapt to Caucasian complexion.

Chanel creation with double the expertise

The CC CREAM unites two expertises: created by CHANEL Research, it bears the signature of the Creative Makeup Studio. The secret to its exceptional performance is simple: it combines the benefits of complete skincare with long-lasting makeup, for perfect results and a natural finish. Upon application, it works its magic. Within moments, the skin glows with natural beauty. The complexion is visibly even-toned and radiant, fresh and flawless.

1 product – 5 actions

A restructuring active ingredient* to prevent and correct signs of aging.
Hyaluronic acid to moisturize.
Cornflower water to soothe.
A mineral sunscreen to protect against sun damage.
Mineral pigments to conceal imperfections and even out skin tone.

*REjUvENCiA. Naturally derived active ingredient, from a marine microorganism, which stimulates the natural production of collagen.

With a delicate scent, the soft, sheer, velvety texture is truly surprising. Both rich and light, it provides maximum comfort and long-lasting coverage, for a natural-looking finish. The skin is dressed to perfection. Neither too much nor too little. Fresh, smooth, in a word, elegant.

Tips from Chanel

Using the fingertips, apply CC CREAM to thoroughly cleansed skin. Blend by smoothing the cream over the face, working outwards. CC CREAM can also be used for touch-ups during the day.
Finns att köpa: By Bloom, KICKS-butiker. Kommer i 30 ml tub. Dermatologiskt testad.