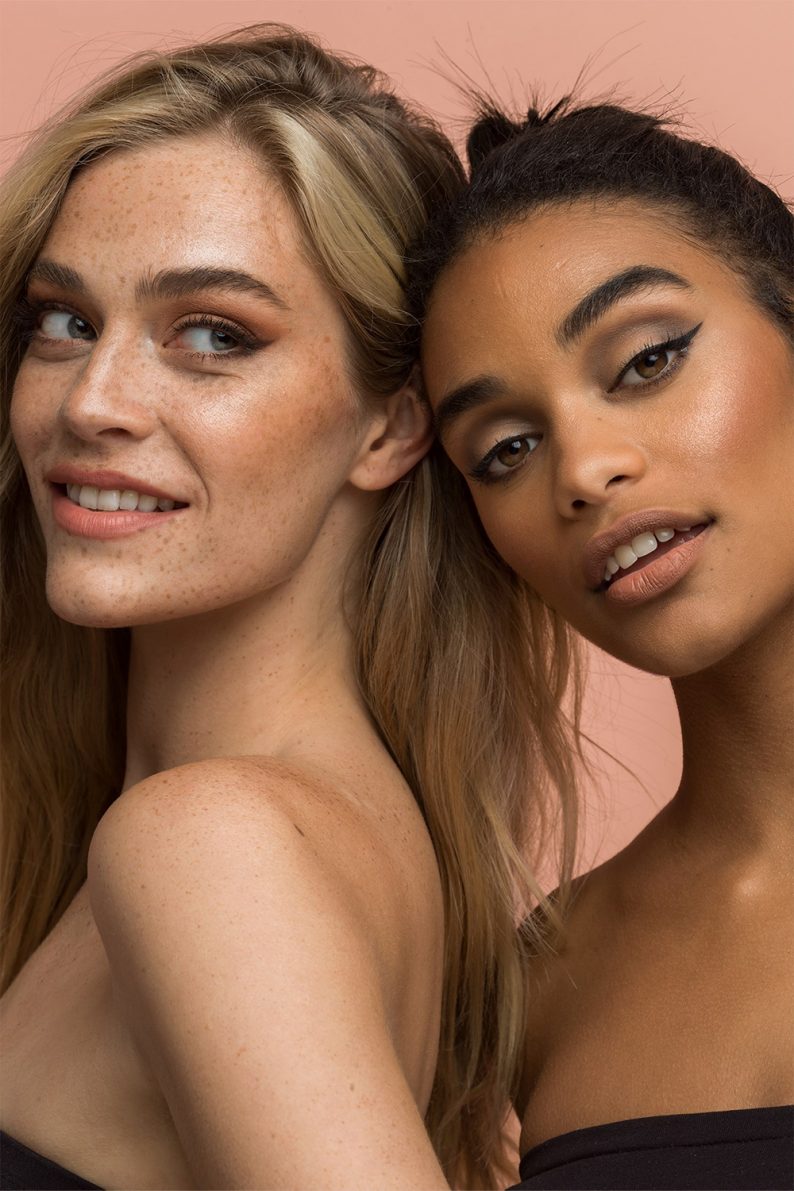 NKD / BTY
NKD / BTY is 100% against animal testing and always will be
Bronz Eyeshadow Palette Multicolor 349 SEK
Palette with 10 stunning eyeshadows that you can use together or alone. We leave that up to you. Any respectable eyeshadow palette is easy to mix. That's kinda the whole point. Ours is even easier to build looks with since it's tonal. Ten pigmented neutral shades that you can mix'n'match as you want. Four metallic. Six matte. One incredible palette. Your makeup bag isn't complete without it.
Matte Bronzer 149 SEK
Bronzer for beautifully sun-kissed skin. Because winter. Where there's no sun, there's bronzer (a.k.a. summer in a jar). And we have two shades of summer to choose from: shimmery and matte. The shimmery shade ads a little sparkle to your everyday look (or for going out). The matte shade is more of a casual, less-in-your-face option. Both are beautiful. Just like you <3
Matte Bronzer Beige
Shimmery Bronzer Beige
Contour & Highlighter Palette 299 SEK
Glow kit for days when you want to shine as bright as you do on the inside. Let's face it – healthy glow can be hard to come by. Maybe it's winter. Maybe you're tired. Maybe you've binge watched YouTube all weekend and now you've got a hot date (#help!). Whatever the reason, we can all need a little glow-up-help every now and then. The contour shades help you bring out your favourite features and the highlighter lets you shine. And girl, do you shine! This highlighter palette comes in medium / dark and light / medium.
Liquid Eyeliner 119 SEK
Liquid liner you'll wear all day, every day. (For real! Once it's on, it stays on.) Our waterproof, smudgeproof, sweatproof liquid eyeliner isn't going anywhere. It won't feather or run. Only hold on tight. With an easy-glide, quick-dry formula the eyeliner goes on smoothly and the marker-like tip is great for both thin and bold lines. No matter what you choose this eyeliner will stay put. This liquid eyeliner comes in black.
Eyeliner
Eyeliner pencil that brings out what your mama gave ya. And then some. A little eyeliner can go a long way. It can make your eyelashes look longer, lushify your lash line, even give you a more intense gaze. It can also help you express your unique style in creative ways. Our eyeliner pencil is a no-frills essential – perfect for both sharp lines and soft edges. And listen to this: it has natural wax that cares for the skin around your eyes. How thoughtful. This eyeliner comes in black.
Brow Gel 149 SEK
Tinted gel for natural, perfectly imperfect brows. Just the way we like it. Love natural brows? So do we! Bushy, messy, unruly. Just make them full and we're onboard. With our tinted eyebrow gel you can colour and shape your brows for fullness that lasts. All. Day. Long. (We're serious! It's waterproof – so it won't budge). And the best thing is that a good brow can be a whole look. Just brush those babies in place and walk out the door. Dunzo! This brow gel comes in dark brown.
Blonde
Brown
Medium Brown
Dark Brown
Eyebrow Pencil 129 SEK
Multifunctional pen for natural brows 2.0: like your own but more. Sometimes more is more. Like when you want to add some extra brow strokes. Or get 3 cool styling options for the price of 1. Our multifunctional eyebrow pen has a triangular tip with a sharp edge for real-looking feathered strokes, a flat tip for fullness + a built-in brush for shape. With Vitamin E and natural wax, it also helps to keep your brows in tip-top condition. That's what we call bomb brows! This eyebrow pencil comes in brown.
Blonde
Brown
Medium Brown
Dark Brown
Liquid Matte Lipstick 149 SEK
Liquid lipstick for a pop of colour to match your mood (or knowing us: outfit). Our liquid lipsticks have awesome coverage and pigment for days. The formula goes on smoothly with the doe-foot applicator and leaves a silky matte finish. Infused with Vitamin E, they help protect your lips from damage caused by free radicals from pollution or UV rays. Did we mention that they come in seven spot-on shades? Nothing crazy. Just really cool colours that never go out of style. This lipstick comes in royal red.
Aria
Ivy
Iyla
Mila
Mya
Zoe
Luna
Lip Pencil 99 SEK
Lip pencil that helps your lipstick last longer (#dreamteam). What's a lipstick's BFF? Besides you – we'd say lip pencils. They stop lipstick from bleeding and can be used to build a foundation for long-lasting colour. But you probably knew that. Did you know this: lip pencils can replace lipstick all together? Just fill in your lips and blend with a smudger. *mind blown*. Now, that's a beauty hack if we ever heard one. This lip pencil comes in royal red.
Aria
Ivy
Iyla
Mila
Mya
Zoe
Luna